Online Learning and Back Health
Healthy Online Learning: Advice from a Physiotherapist and Teacher
by Andrea Ginter Physiotherapist, BScKin MScPT and Anna Whiteman Teacher, BEd MEd
The sudden shift to online learning schoolwork in response to CoVid-19 social distancing recommendations has been a challenge for many families. These are unprecedented times, and we are all working on coming to terms with the new normal, especially when it comes to online learning for children and teens.
Do not try to achieve perfection with schoolwork. Parents should focus on taking care of themselves and their family, as mental health as a family is imperative right now. Schoolwork is a tool that helps keep kids' minds active, and helps to maintain their routine.
Enhancing focus for online learning
Some kids need background noise to help them focus. Instrumental music such as the music of The Piano Guys, or movie soundtracks like Indiana Jones and Pirates of the Caribbean are good options.
"Brain breaks" are essential. Use a timer to set a learning time goal. For example, a 6 year old may be able to complete up to 30 minutes of learning activities, and a 12 year old may be able to complete up to an hour, although this varies for each child and family. Then, use a timer to set a brain break time, for example 15 minutes. Exercise provides an ideal brain break. For children, some good brain break resources are Cosmic Kids Yoga and GoNoodle. Drawing is also a good brain break for young people who enjoy this activity.
Certain children focus best when they are permitted to move a little. A wobble cushion is a piece of equipment that helps allow for this movement. The wobble cushion can be placed over the chair seat or on the floor for children to sit on. Another option is making a standing desk, using a stool or box to achieve the right height for the child.
Studying from books or tablet
To maintain neck health and prevent headaches, choose study positions that allow for a more neutral neck position. Try to raise the height of the book or tablet. If the book or tablet is held too low, the neck will strain downwards, which can cause neck pain.

Learning on a computer
The same computer ergonomics recommendations apply to children, teens, and adults. Screens should be raised high enough that the screen can be easily viewed without craning the neck. The computer monitor may need to be elevated on a stack of books to achieve this. The hips should be centered in the chair. Feet should be flat on the floor. Children may need something sturdy like a stool or textbook to rest their feet on if they cannot reach the floor. When typing, the keyboard should be positioned so that the elbows are bent about 90 degrees, with shoulders in a relaxed position.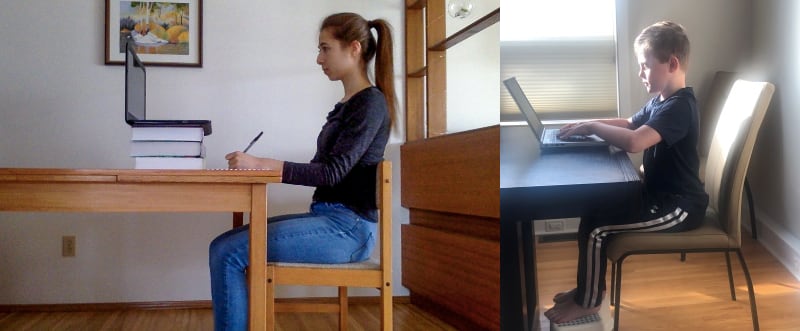 Teen Health
Spending more time at home means that we are temporarily becoming more sedentary. Teens can develop lower back pain and stiffness due to prolonged sitting and insufficient exercise. To maintain health, the Canadian Society for Exercise Physiology recommends that teens perform at least 60 minutes per day of moderate to vigorous physical activity daily, and several hours of light physical activity daily. To prevent lower back pain and stiffness, balance sedentary study time with exercise. Exercise at home for teens can include online dance classes, yoga videos, and kickboxing workout videos for example.
Changing study positions regularly can also help prevent back pain and stiffness. For example, an ironing board or a tall counter can be a makeshift standing desk.
The following stretch positions can also help relieve back stiffness. Hold these stretches for approximately 2 sets of 30 seconds each. Seek out a physiotherapist for advice if the back pain and stiffness persist or worsen.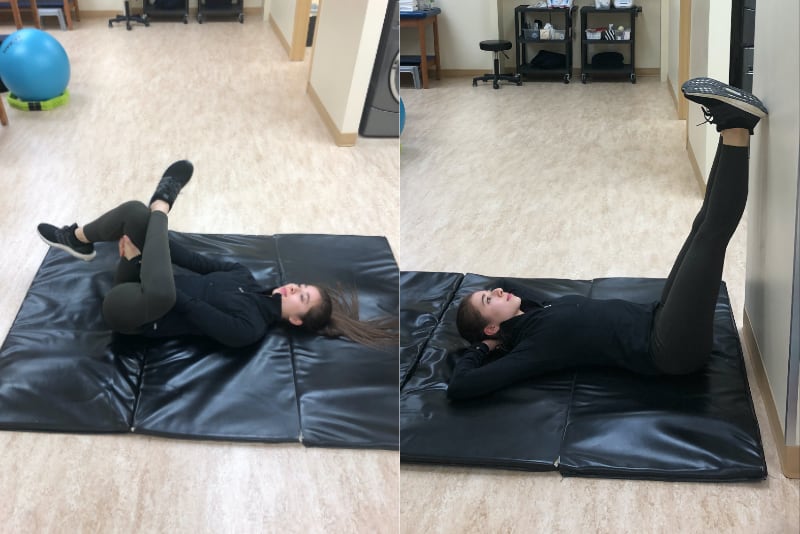 References:
Canadian 24-Hour Movement Guidelines for Children and Youth (ages 5-17 years) (2020). Retrieved from https://csepguidelines.ca/children-and-youth-5-17/