Kids' Shoes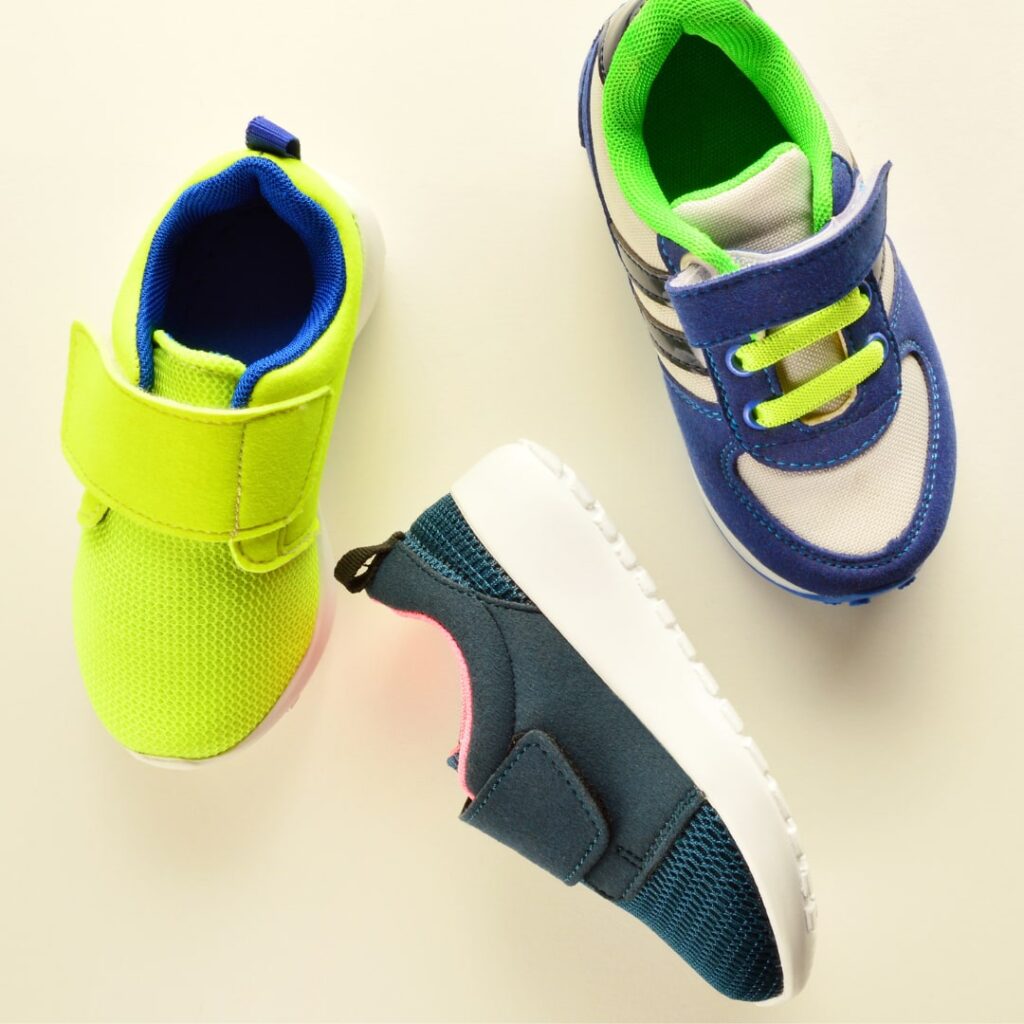 Shoes! There are 2 main reasons we need shoes; for PROTECTION and to ALLOW US TO MOVE as we want to move without slipping, sliding, tripping, falling or without slowing us down.
Not only do kids move differently than adults, their feet are also very different from adult feet.
The size!   Did you know that under 2 years old, toddlers' feet are approximately ⅓ the size of their shin? And adults? It is substantially less.  This makes it way easier for these new walkers to balance.

The bones! Babies are born with feet that are partially ossified.  The middle of the foot is quite soft until 3-4 years old, and all the bones are not fully ossified until approximately 10 years old.  What does this mean?   It means that those bones are much more flexible than an adult foot.

The softness – All of the soft tissue is more elastic in young children's feet. The ligaments, fascia and tendons do not begin to become more rigid until around 5 years old and progressively gets sturdier as they move towards adolescence.

There are more and larger fat pads in children's feet.  Not only do these fat pads make their feet chubby and cute, they support those growing and flexible bones, especially with all the running and jumping they do!

The ankle is set up to roll inwards.  Because of all the flexibility mentioned above, and the tendency of the hips and knees to guide the legs inward, the ankles roll inwards approximately 7 degrees when they are first on their feet.  This progresses to near straight about 8-10 years old.
All of this tells us that before 10 years old, kids' feet are MORE FLEXIBLE.
And GUESS WHAT?! FLAT feet in children is what we SHOULD expect to see.
So what shoes should we choose for our kids' feet?
The most important thing when looking at shoes is the FIT.  We want shoes to bend where your foot bends, and to be more rigid where your foot is rigid. Specifically,  we want your shoe to bend where your toe bends, and we want your shoes to be more firm around your heel.
We also want kid's shoes to have enough room to allow their toes, feet and ankles to move, so those MUSCLES CAN DO WHAT THEY NEED TO DO  with walking, balance, running or jumping.  By making sure the heel is secure in place, those little muscles are able to do what they need to do.
And lastly, we need their shoes to have GREAT TRACTION AND GRIP.  This not only prevents crashing and falling, it allows them to safely succeed on their feet!
For our preschoolers and our school aged kids, we want:
Shoes that are flexible in the front foot

Shoes that hold your heel in the shoe without popping up

Shoes that have great grip
Here are some great kid's shoe options:
Walmart – Athletic Works (with rubber soles)

Walmart – And1

Carter's EverPlay Sneaker

Saucony Wind or Ride

Puma Scorch

New Balance DynaSoft 545

Asics Excite

Tsukihoshi Storm/Rainbow/Velocity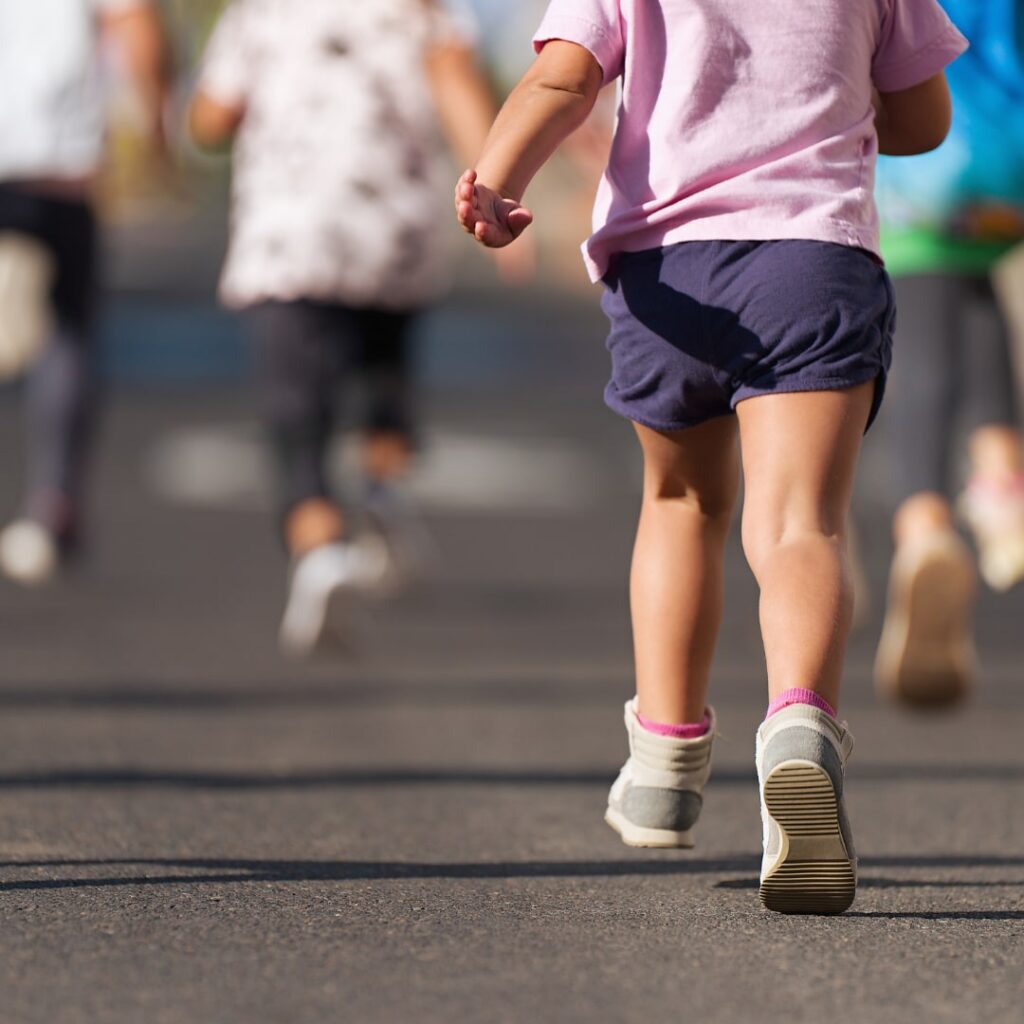 Shoes For our Babies and Toddlers:
Babies and toddler feet are MUCH MORE flexible than school-aged feet.  When they are first on their feet, those soft bones create a flatter foot, but by using their toes to stabilise with twisting, turning, flexing and pointing, those flexible feet allow the muscles to activate in all sorts of ranges of movements.  This is important to strengthen the muscles of the feet and ankles.
At this age, we NEED those toes, feet, and ankles to move.    The best thing to allow this is barefeet, because they get the grip they need while activating the muscles they need.  However, they can't be in bare feet all the time.  Cold feet, dirty surfaces, daycare rules and outside play get in the way of that.
Did you know socks can be a deterrent as well? They don't provide the right grip which can make them slip and slide around.  With the slipping and sliding, it can create extra work for some of those muscles, which is not as natural.
So what shoe options will work?
Soft shoes/moccasins are great and they meet the needs of cold feet, dirty floors and some day care rules.    However, soft shoes do not provide the best protection when outside, ie. stepping on rocks, stubbing toes
So what do you do?    We need to find shoes that have a hard bottom, that are NOT rigid, have a wide toe box to allow those toes to move and that midfoot to twist and turn.   Most importantly,  we want to make sure those shoes are not slipping on or off.
Here are some great shoe options:
Walmart – Athletic Works (with rubber soles)

Walmart – Stride Rite Munchkin

Carter's Every Step Sneaker

Stride Rite – Soft Motion

See Kai Run Toddler (Great for wider, chubbier feet)

Asics Toddler Contend

Puma Toddler Anzarun Lite

Saucony Ride 10
BUT (because there is always a but), some children MAY need more support.  If you answer yes to any of these questions, a more supportive shoe may be helpful to your child:
Does your child complain about foot or leg pain?
Does your child appear like they are walking on the insides of their feet?
Is your toddler having a hard time learning to walk?
Do your child's toes, feet and ankles stay in one position only while walking?
Is your child getting tired easily while walking?
Is your child able to keep up with their peers while doing physical activities?
Does your child trip or fall frequently while walking?
Does your child walk on their toes?
Does your child's feet turn in or out when walking?
A more supportive shoe could include any or all of the following: a rigid bottom, an arch support, increased ankle support, or extra ankle straps.  Some kiddos may need shoes that are heavier, and some kids may need shoes that are lighter.
Here are some great options:
Shoes for Toddlers:
Stride Rite – Made2Play

Stride Rite – SRtech

Geox Toddler Rishon

New Balance 680

Puma Fun Racer

Falcotto Toddler

Keen Chandler CNX

Froddo Rosario High Tops
Shoes for Preschoolers and School-aged kiddos:
Keen Chandler CNX

New Balance Rave Run

Saucony Guide

Stride Rite Lighted

Stride Rite M2P

Geox Perth

Geox Magnetar
If your child's foot and ankle stability is considered significantly less than expected, your child may also benefit from an over the counter orthotic, a custom orthotic or a brace.   If you are unsure, a physiotherapy assessment is recommended for your child to help choose the most optimal footwear for your child. At Calgary Youth Physiotherapy, we know kid's feet!